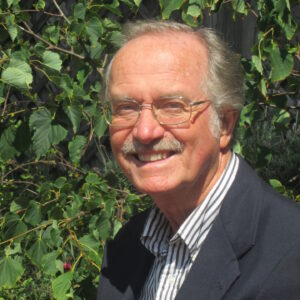 Mayoral Representative
Director:  Clyde Roberson
Email: roberson@monterey.org
Committees: Water Demand
Bio:
Born in Oakland, California, Clyde Roberson started his teaching career in 1968. His hobbies include hiking, biking, gardening, writing humorous poems about his years in the classroom, and volunteering at local schools.
He was privileged to teach in Monterey for 35 years.  Among many highlights was teaching children of former students, and working with outstanding colleagues, parents, and community.  He and his wife, Dottie, were fortunate to raise their children in Monterey where they attended local schools.  Their grandchildren also go to school here.
Clyde is honored to have served 26 years on the Monterey City Council, including six terms as mayor, as well as four years on the Library Board.  He started the Monterey Sports Center after his students and the residents repeatedly wrote that the city needed an indoor swimming facility, gymnasium, and exercise facilities. It was paid for when the doors opened.
He started the Neighborhood and Community Improvement Program which has funded  $90 million since 1985 into residential streets, storm drains, sewers, parks, and city-wide projects.  He created the Historical Preservation and Cultural Arts Commissions. He initiated the hotel moratorium to stop over-development of our coastline.
Working with the people of Monterey, he helped to form neighborhood associations, develop the Window to the Bay and Recreational Trail, worked to keep the DLI and Naval Postgraduate School here, balance city budgets, and support local business.
His priorities are protecting our quality of life, listening to citizens, keeping Monterey safe and solvent, providing services to residents, and preserving our natural and historical beauty.  He is committed to fixing the city's infrastructure and retaining Monterey's small-town feeling.
A Member of Mayors for 100% Clean Energy, Mayor Clyde is pleased that Monterey belongs to the Central Coast Community Power for Renewable Energy and the Regional Climate Action Compact.
A neighborhood newsletter stated: "With unfailing support for neighborhood issues…and a visionary's ability to solve problems with innovative solutions, Clyde has never ceased to support every neighborhood in the City of Monterey."
He loves Monterey and will take care of it with you.