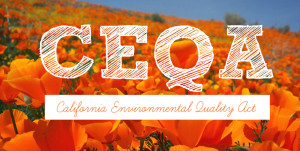 The California Environmental Quality Act (CEQA) is a California statute passed in 1970, shortly after the United States federal government passed the National Environmental Policy Act (NEPA), to institute a statewide policy of environmental protection. CEQA does not directly regulate land uses, but instead requires state and local agencies within California to follow a protocol of analysis and public disclosure of environmental impacts of proposed projects and adopt all feasible measures to mitigate those impacts. CEQA makes environmental protection a mandatory part of every California state and local agency's decision making process. It has also become the basis for numerous lawsuits concerning public and private projects.
Current Notices (Updated on July 16, 2020)
Consider Adoption of an Addendum to the District's Prior ASR Environmental Impact Report for Construction of a Bypass Pipeline to Allow Simultaneous Pure Water Monterey Recovery and ASR Injection (Subject to CEQA Review per CEQA Guideline Sections 15162 and 15164)
On July 20, 2020 at 6 PM the MPWMD Board of Directors will consider adoption of Resolution 2020-13 that would adopt Addendum 6 to the ASR EIR/EA.  For information on how to join the WebEx meeting see the meeting agenda at https://www.mpwmd.net/who-we-are/board-of-directors/bod-meeting-agendas-calendar/.
Notice of Availability of an Environmental Impact Report for the Potential Acquisition of Monterey Water System and District Boundary Adjustment Project EIR
The Monterey Peninsula Water Management District (District)  as the Lead Agency, hereby gives notice that pursuant to the authority and criteria contained in the California Environmental Quality Act (CEQA) and the State CEQA Guidelines, the District has prepared and completed a Draft Environmental Impact Report (EIR) for the proposed Potential Acquisition of Monterey Water System and District Boundary Adjustment Project (proposed project).   The District is seeking input  from agencies on the scope and content of the environmental information relevant to your agency's statutory responsibilities in connection with the proposed project.  And from interested parties the District requests your comments and concerns regarding the environmental issues associated with implementation of the proposed project. For more information, view the Notice of Availability and Draft EIR.
Save