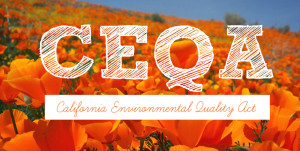 The California Environmental Quality Act (CEQA) is a California statute passed in 1970, shortly after the United States federal government passed the National Environmental Policy Act (NEPA), to institute a statewide policy of environmental protection. CEQA does not directly regulate land uses, but instead requires state and local agencies within California to follow a protocol of analysis and public disclosure of environmental impacts of proposed projects and adopt all feasible measures to mitigate those impacts. CEQA makes environmental protection a mandatory part of every California state and local agency's decision making process. It has also become the basis for numerous lawsuits concerning public and private projects.
Current Notices (as of April 7, 2020):
Ordinance No. 185 (Comment period from March 16, 2020, to April 4, 2020).
This ordinance amends the provisions of Rule 24 to allow a second Bathroom for convenience in any Dwelling Unit on Sites with less than four Dwelling Units that existed as of the date the protocol was adopted in 2001.  The ordinance clarifies that the second Bathroom protocol is not allowed to be used by a new Accessory Dwelling Unit.  This ordinance also permanently amends Rule 23 as adopted by Urgency Ordinance No. 184 to exempt existing Residential space or structures that can be converted to Accessory Dwelling Units from the requirement for permanent sub-metering and grandfathers existing active construction of ADUs from the requirement.
Ordinance No. 185 also codifies the Board's adoption of Ordinance No. 184 by urgency in August 2019.  The codified action clarifies water submetering requirements for Accessory Dwelling Units ("ADUs").  The ordinance allows permanent submetering of one detached ADU on a Site and exempts from submetering ADUs located within an existing structure.
Notice of Preparation of an Environmental Impact Report for the Potential Acquisition of Monterey Water Supply and District Boundary Adjustment Project EIR (Comment period from April 6, 2020 to May 6, 2020)
The Monterey Peninsula Water Management District (District) will serve as the Lead Agency, consistent with Sections 15020 and 15021 of the California Environmental Quality Act (CEQA), in preparing an Environmental Impact Report (EIR) for the Potential Acquisition of Monterey Water Supply and District Boundary Adjustment Project (proposed project). The District is seeking input from the general public, public agencies, organizations, and other interested parties regarding their views on the scope and content of the environmental information that should be analyzed in the EIR, including input regarding any topics or specific issues that are germane to a particular agency's statutory responsibilities in connection with the proposed project. A description of the proposed project, as well as the location and probable environmental effects are described in the Notice of Preparation.
Save