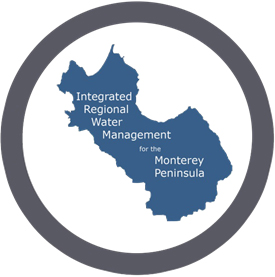 The Integrated Regional Water Management Program (IRWM Program) seeks to coordinate the actions of stakeholder entities involved in water resource protection, enhancement, and management in the planning Region comprising Carmel Valley, the Monterey Peninsula and the Ord Community.
Latest Updates:
Regional Water Management Group Meeting Minutes can be found using the link at the right sidebar – updated 10/1/2021
Regional Water Management Group Memorandum of Understanding added to the right sidebar – added 6/15/2021
DWR Implementation Round 1 Grant for the Monterey Peninsula executed April 6, 2021! – updated 4/8/2021
$2,238,904 IRWM Implementation Round 1 grant projects – added 2/12/2021
If you would like to receive email updates on stakeholder activities, please email mhamilton@mpwmd.net.