Mayoral Representative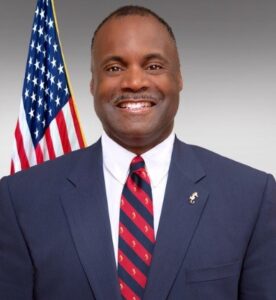 Director: Ian Oglesby

Email: ioglesby@ci.seaside.ca.us
Committees:
Legislative Advocacy Committee, Committee Member
Water Supply Planning Committee, Alternate Committee Member
Bio:
In 2022, Ian was re-elected to his third term as Mayor of the City of Seaside CA. Retiring from California Department of Corrections & Rehabilitation (CDCR) as a Correction Officer with tenure of 27 years. Ian has served Seaside as a Council Member for 8 years, from 2008 until 2016. As Mayor Pro Tem from 2014-2016. He served for more than 7 years on the Seaside Planning Commission.
Director Oglesby remains visible in and out of Monterey County, he currently sits on numerous boards and commissions in his on-going commitment to positively promote Seaside and improve the quality of life for residents.
Ian currently serves on the following boards/commissions: Local Agency Formation Commission (LAFCO), Past Chair; Transportation Agency of Monterey County (TAMC); TAMC's County Rail Committee; Monterey Peninsula Water Management District (MPWMD); Seaside Groundwater Basin Water-master (Water Master); Seaside County Sanitation District (SCSD); Lead Me Home Leadership Council; Monterey County Mayor Association, Past Chair; Chair, Seaside Housing Non-Profit Co; Chair, Monterey County Veteran Advisory Council (VIAC); Cal Cites Monterey Division, 2nd Vice President; Cal Cities African American Caucus, Treasurer.
He has also served on the boards of the Monterey Regional Waste Management District (MRWMD), Ft Ord Reuse Authority, Monterey One Water (W1W), Central Coast Community Energy (3CE), as an alternate board member for Association of Monterey Bay Area Governments (AMBAG), Monterey Peninsula Water Management District (MPWMD), Monterey Peninsula Regional Water Authority (MPRWA), Monterey – Salinas Transit (MST), and the Community Human Services: Joint Powers Authority (JPA), and Monterey Peninsula Regional Water Authority.
Ian was born and raised a community of North Chicago, Illinois next to the Great Lakes Navy Base, by his single mother with one older brother and sister. He enlisted United States Army at 17, and attended Basic Training at Fort McClellan, Alabama. As a Nuclear, Biological and Chemical (NBC) Specialist he received numerous letters of accommodations, awards, and medals, attaining the rank of Sergeant (promotable) (E-5P). He was station at Ft. McClellan, Alabama, Ft. Lewis, Washington, Germany and South Korea. Ian arrived in Seaside in 1990 and concluded his military service in 1994 with the 2/27th Infantry Battalion, 7th Infantry Division (Light Fighters) at Ford Ord, California.
After graduating from the Correctional Peace Officer's Academy with honors, in 1995 he began his Law Enforcement career with the CDCR. He was assigned to the Correctional Training Facility (CTF) in Soledad, California; where he received a special appointment to the Security and Investigation Unit (ISU) as an Investigative Officer, investigating crimes within the prison. His additional duties included serving as one of 2 Institutional Key/Tool Control Officers with policy development, review and oversight of key/tool control accountability procedures; Local Archives Liaison, and his last 18 years as a Professional Development Instructor with the facility's In Service Training Unit (IST) department, with the responsibility of conducting an annual training of 1,700 staff members.
Ian's current non-profit board memberships includes Monterey College of Law (MCL), Chaplin, VFW District #12 (Past Commander) representing over 3,000 veterans from Redwood City to King City; Board of Trustees, Seaside VFW Post #8679 (Past Commander); American Legion Post #591; Treasurer, and LULAC #2895 Monterey Peninsula.
Past boards: Monterey County United Way (7 yrs.), Community Foundation for Monterey County 2009-2010 Nominating Committee, and Monterey County "Overall Economic Development Commission" (OEDC).
His interests include reading non-fiction, golf and studying leadership to become a better servant leader. Mr. Oglesby is married to his beautiful wife Rita Cummings-Oglesby. They have four adult children and four grandchildren.