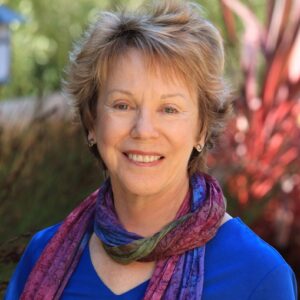 Division 5, 2023 Vice-Chair of the Board
Director: Amy Anderson
Email: carmelcellogal@comcast.net
Committees:
Finance and Administration Committee, Committee Chair
Public Outreach Committee, Committee Member
Water Demand Committee, Committee Chair Member
ACWA/JPIA, Representative
Policy Advisory Committee, Alternate Committee Member
Bio:
Amy was born and raised in Arcadia, in Southern California.  Following high school, she enrolled at the University of California Santa Barbara, and later transferred to UC Berkeley, where she received a BA in Music.  After working for a few years as a gig cellist and running a clothing design business she founded, she returned to California State University Hayward to complete credits in the biological sciences so that she could apply to graduate school to pursue a Ph.D. in Biology.
Amy won a four-year UC President's Fellowship to support her graduate studies at UC Santa Barbara.  She enjoyed an exciting research program working on marine animals living in exotic habitats ranging from deep-sea hydrothermal vent habitats, where she rode the deep-sea submersible Alvin to the sea floor to collect her critters, to the sewage outfall off the coast of Los Angeles.  Her doctoral studies focused on the manner in which non-feeding marine invertebrates pair-up in symbioses with sulfide-oxidizing bacteria to enable them to thrive in sulfide-rich waters.
After earning her Ph.D., she spent two years at the University of Colorado, Boulder as a Postdoctoral Research Associate.  Next, she and her husband, George, a marine biochemist, took faculty positions at Oregon State University (OSU) in the Department of Zoology.  There, she taught courses in zoology and continued her research on animal-bacterial symbioses.  She was appointed to the President's Commission on the Status of Women at OSU and helped design a study to determine whether disparities existed in the ways that female and male graduate students were being treated.
She and her husband left Oregon in 1995 and moved to the Monterey Peninsula, where George took a faculty position at Stanford University's Hopkins Marine Station.  This move afforded Amy an opportunity to return to her first vocational love – music. She joined the Community and Pops orchestras and began playing chamber music.  She was soon invited to join the Board of what is now called Chamber Music Monterey Bay (CMMB), a 54-year old non-profit presenting and education organization.   She became Artistic and Education director of CMMB in 1998, a position she still holds, and also served many stints as Board President.
Amy has also been active in community organizations such as the League of Women Voters, in which she worked with Peninsula colleagues to write a voting rights Resolution, which was adopted at the 2009 National LWV conference in Atlanta.  She is a charter member of the Democratic Women of Monterey County and has worked as a volunteer for several causes which resonated with her deep interest to give back to her community.  She served as President of her homeowner's community association, was active in the campaign to incorporate Carmel Valley as a city, was elected to the Town Council in that election (though the incorporation effort failed), and did therapy dog volunteer work at Community Hospital of the Monterey Peninsula and assisted living facilities. Her interests in ensuring an adequate and affordable water supply for the Peninsula led her to run for the Monterey Peninsula Water Management District in the 2020 election.