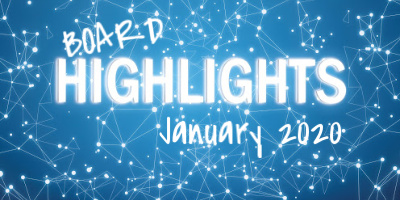 January Board of Directors Meeting Highlights
It's a new year and with 2020 settled in, we will be starting a new series of posts to help you better understand and highlight what happened at each month's Board of Directors meeting.
For many of our constituents, attending our meetings can be difficult and although they are broadcast on AMP Media (click here) and posted to our YouTube Channel, (click here) sometimes you need a quick review of the events of the meeting. Some of the items might not affect your day to day life, but some will, and we want to make sure you know what is going on with your Water Management District
We will include links to our agenda page which includes the meeting's agenda in addition to minutes and video when they become available.
Highlights of the 1/23/20 meeting include:
Outgoing Chair Molly Evans of Division 3 was presented a gavel and thanked for her year of service leading our Board of Directors
The Board of Directors unanimously approved a change to the District's Water Credit Table. Under Rule 25.5 Table 4, water credits are now available for installation of an approved Greywater or rainwater reuse system that provides all water for toilet flushing and/or clothes washing. This change is in response to the emerging improvements in system technology to meet increases in demand (click here for more info)
A presentation by Dave Stoldt, the District's General Manager of an Updated Water Demand Forecast (click here for more info)
A discussion of future Board of Directors Agenda Items and the potential timing of those items (click here for more info)