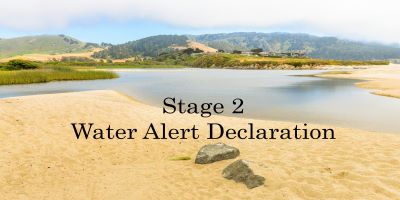 MPWMD Moves to Stage 2 Conservation
Due to expanding drought conditions throughout the State of California, Governor Newsom issued Executive Order N-7-22 on March 28, 2022. In this Order, the Governor called on all Californians to reduce water use and directed specific State agencies to take actions in support of water conservation. Immediate action is needed to ensure water suppliers and all Californians are taking sufficient actions to conserve water and preserve the State's water supply.  On May 24, 2022, the State Water Resources Control Board ordered urban water suppliers to implement Level 2 demand reduction and banned irrigation of non-functional turf in non-residential sectors. The state also released a Frequently Asked Questions and Answers document.
Locally, the Monterey Peninsula Water Management District triggered Stage 2 Water Conservation, effective June 1, 2022. Water users supplied by California American Water (Cal-Am) are always in Stage 1 of the program.  Stage 2 simply ramps up enforcement and outreach to remind everyone not to waste water. Cal-Am water users are now in Stage 2.
All water users, including municipal uses, are required to comply with the attached Stage 1 Prohibitions on Water Waste, as applicable.  More importantly, this law requires the following actions to save water:
 Irrigation must only occur before 9 a.m. or after 5 p.m. on Wednesdays and Saturdays
Water must not run to waste on sidewalks or gutters
Leaks, breaks and malfunctions must be fixed within 72 hours
Conservation messages are required in all commercial restrooms, kitchens, and dining areas
All non-residential uses must meet MPWMD Regulation XIV water efficiency standards
Irrigation of non-functional turf is prohibited. This State Water Board regulation bans irrigation of grass that is purely ornamental, such as grassy areas in front of or next to buildings.  Parks and areas used for recreation or community purposes are exempt from the prohibition.
In the upcoming months, District staff will be regularly visiting the area to check for conformity with these requirements. If you have questions, please contact Water District conservation staff at 831-658-5601 or email conserve@mpwmd.net.