FACT SHEET TEMPLATE FOR WATER SUPPLY ALTERNATIVES
MPWMD Special Workshop, August 25, 2011
Alternative Type:  Increase Carmel River Surface Storage
Project Name:   Dredging at Los Padres Reservoir
Project Sponsors:  MPWMD (prepared by Larry Hampson)
Location:  Los Padres Reservoir on the Carmel River main stem, 25 miles upstream of the Pacific Ocean
Project Description: Sediment accumulated in the reservoir since 1948 would be removed to increase the capacity to divert and store winter Carmel River flows.  Up to approximately 1,250 acre-feet (2 million cubic yards) of storage capacity could be recovered.  Cal-Am could apply to SWRCB to amend its water rights in the Carmel River Basin to reflect the increased storage capacity.
ATTRIBUTE

ESTIMATES

NOTES and COMMENTS

YIELD (AFY)

1,250 (most years)

Yield could be less in extreme droughts.

COST

$40 to $77 million in 2011 dollars for two million cubic yards

Based on Moffat and Nichols 1996 estimate provided to Cal-Am.  Estimate was made prior to listing of steelhead and California red-legged frogs as threatened species under the ESA.  Project costs likely would be higher to mitigate for potential impacts to these species.

TIMELINE

Unknown

Review/permit process could be lengthy.  The feasibility of increasing water storage by 2016 is unknown.

PERMITS AND APPROVALS

*Federal, State, Regional, Local Jurisdictions

NEPA, ESA, 404, 401

CEQA

Partial list of permitting agencies:

USFWS, NMFS, U.S. ARMY CORPS, RWQCB, CCC (possibly), CDFG, County of Monterey

PROS AND CONS

*Benefits

*Reliable, known

technology; dredging is conducted at other

reservoirs and in ports and harbors (knowledge base to draw on)

*Additional surface storage in the Carmel River Basin could result in increased dry season flows for much of the river downstream of the reservoir;

* dredge spoils could be sorted to remove and stockpile spawning gravels and cobbles for later injection into the river

*Drawbacks

*EIR/EIS probably required (unknown cost);

*EIR/EIS development and  review could take 3 to 5 years;

*Permit process could be lengthy;

*Landowner (Cal-Am) access is required;  Cal-Am is currently not willing to pursue this alternative;

*Temporary disturbance/impacts to river system during dredging operation; mitigation costs could be high;

*May require use of water in the dry season to dredge and pump spoils;

*Potential lengthy distance to move spoils; potential high cost in relation to water supply benefit; cost of maintaining capacity may be high due to high sedimentation rate in watershed;

*Los Padres Dam is a fish passage barrier blocking movement of steelhead; about 50% of the spawning and rearing habitat in the watershed exists above the dam; *NMFS has indicated that dam decommissioning should be considered to improve steelhead passage.
<![if !vml]>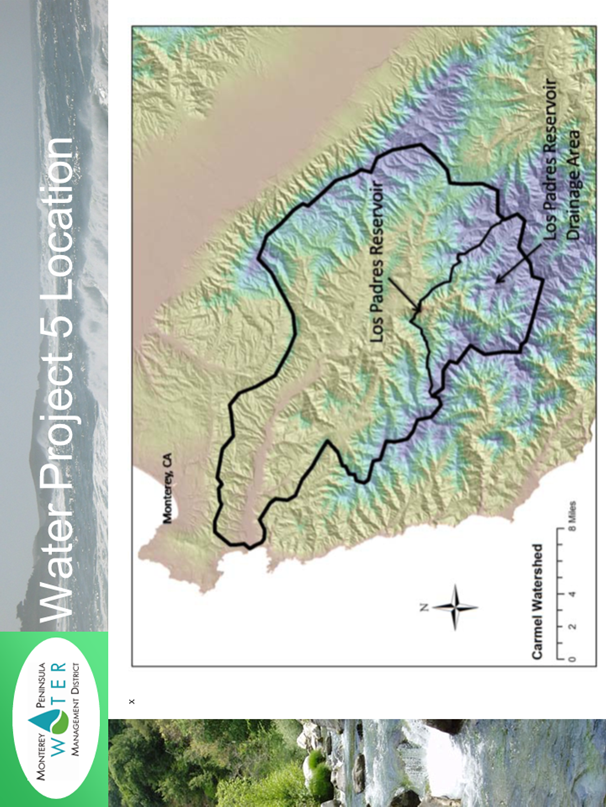 <![endif]>
U:\staff\word\boardpacket\2011\20110825\03\B5\FACTSHEET_Water_Project_5_25aug11.docx