ITEM:

INFORMATIONAL ITEMS/STAFF REPORTS

30.

CARMEL RIVER FISHERY REPORT

Meeting Date:

April 21, 2008

Budgeted:

 

N/A

From:

Darby Fuerst,

Program/

N/A

General Manager

Line Item No.:

Prepared By:

Beverly Chaney

Cost Estimate:

N/A

General Counsel Approval:

 

N/A

Committee Recommendation:

 

N/A

CEQA Compliance:  N/A

<![if !supportMisalignedColumns]>
<![endif]>
AQUATIC HABITAT AND FLOW CONDITIONS:  During March 2008, Carmel River streamflow conditions were excellent for both upstream and downstream fish migration, and juvenile fish rearing, with continuous flow to the Carmel River Lagoon.
During March 2008, the mean daily streamflow recorded at the District's Carmel River at Sleepy Hollow Weir gaging station averaged 113 cubic feet per second (cfs) and ranged from 64 to 231 cfs.  During March 2008, only 0.29 inches of rainfall were recorded at California American Water's (CAW) San Clemente Dam.  The long-term average rainfall for March at this location is 3.33 inches.  The rainfall total for Water Year 2008 to date is 19.36 inches, which is 102% of the long-term average of 18.91 inches for the water year to date.
CARMEL RIVER LAGOON:  On January 5, 2008, the lagoon's water surface elevation (WSE) rose from approximately six feet to 12.6 feet, the highest WSE ever recorded by MPWMD.  This occurrence was attributable to storm waves and a rapidly rising river.   The lagoon sand berm breached naturally to the southern end of the beach and the WSE dropped to between two and four feet. 
During March, the lagoon's WSE fluctuated between two and seven feet above mean sea level as storm waves and tides repeatedly filled, and then drained, the lagoon (see chart below).
<![if !vml]>

<![endif]>
 WSE at the Carmel River Lagoon, March 2008
ADULT STEELHEAD COUNTS AT SAN CLEMENTE DAM:  The fish counter was installed in December 2007 for the 2007-2008 season.  The first upstream migrating fish was counted on January 10, 2008 (see graph below).  As of March 31, 2008, 403 steelhead had been counted, 180% of the total 2006-2007 season, when approximately 222 adults were counted through early April.  The start of this year's adult migration was approximately four weeks earlier due to the early January storm and lagoon opening. All fish are being digitally videotaped for future analysis.
As of March 31, 2008, 157 adult steelhead have been counted passing California American Water's (CAW's) Los Padres Dam fish trap and truck facility.  This number amounts to 39% of the fish that passed San Clemente Dam, so far.
| | |
| --- | --- |
| MONTH | NUMBER OF ADULTS |
| DEC 2007 | 0 |
| JAN 2008 | 28 |
| FEB 2008 | 221 |
| MAR 2008 | 154 |
| APR 2008 | |
| MAY    2008 | |
<![if !vml]>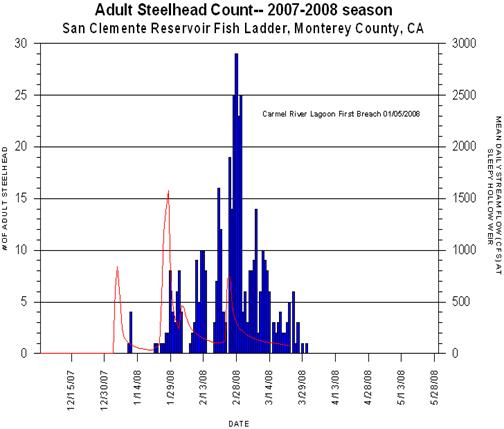 <![endif]>
SLEEPY HOLLOW STEELHEAD REARING FACILITY:  During March, staff began preparing the Facility for the 2008 juvenile steelhead rescue and rearing program.  In addition, electrical trenching work has been completed.  The cooling tower and blowers were also cleaned and the river pumps and intake screen were cleaned and tested.  Next month, staff plans to install portable chillers, filters, and UV sterilizers on the eight rearing troughs.
U:\staff\word\boardpacket\2008\2008boardpackets\20080421\InfoItems\30\item30.doc