ITEM:

INFORMATIONAL ITEMS/STAFF REPORTS

22.

CARMEL RIVER FISHERY REPORT

Meeting Date:

March 19, 2007

Budgeted:

 

N/A

From:

David A. Berger,

Program/

N/A

General Manager

Line Item No.:

Prepared By:

Beverly Chaney

Cost Estimate:

N/A

General Counsel Approval:

 

N/A

Committee Recommendation:

 

N/A

CEQA Compliance:  N/A

<![if !supportMisalignedColumns]>
<![endif]>
AQUATIC HABITAT AND FLOW CONDITIONS:  During most of February 2007, Carmel River streamflow conditions were fair for juvenile steelhead rearing and fair to poor for downstream migration, with continuous, but low flow to the Carmel River Lagoon, and discontinuous flow to the ocean.  Rainfall during the last week of the month improved migration conditions significantly for both adult and juvenile fish.
During February 2007, the mean daily streamflow recorded at the District's Carmel River Sleepy Hollow Weir gaging station averaged 52 cubic feet per second (cfs) and ranged from 16 to 240 cfs. 
There were 3.52 inches of measurable rainfall in February as recorded by California American Water at San Clemente Dam, compared to the long-term February average of 4.39 inches at this site.  The rainfall total for Water Year 2007 to date (October – February) is 8.90 inches, 57% of the long term average of 15.66 inches through February.
CARMEL RIVER LAGOON:  The Carmel River reached the lagoon on January 13, 2007, and the lagoon began to slowly fill.  The water surface elevation in the lagoon (WSE) was approximately 5.5 feet above mean sea-level at the start of January.  The WSE reached 8.0 feet above mean sea-level by the end of January where it remained fairly steady until February 10, 2007 (see graph below).  The barrier sandbar at the south end of the lagoon was breached on February 11, 2007, by the Monterey County Department of Public Works.  Low river flows and storm surge waves caused the lagoon's mouth to close off and reopen several times during February before a large, late-month storm fully opened it.
<![if !vml]>

<![endif]>
WSE at the Carmel River Lagoon, February 2007
ADULT STEELHEAD COUNTS AT SAN CLEMENTE DAM:  The fish counter was installed in December 2006.  The first upstream migrating fish for the 2006/2007 season were counted on February 12, 2007 (see graph below).  As of February 28, 2007, 63 fish had been counted.  All fish are being digitally video taped for future analysis.  Compared to the 2005/2006 season, the start of this year's adult migration was delayed for approximately seven weeks due to the lack of winter rains and the closed lagoon.  Accordingly, the count is significantly below last year's end-of-February total of 141 fish.
<![if !vml]>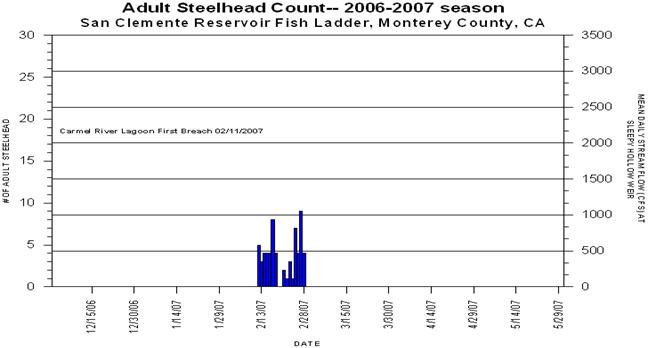 <![endif]>
| | |
| --- | --- |
| MONTH | NUMBER OF ADULTS |
| DEC 2006 | 0 |
| JAN 2007 | 0 |
| FEB 2007 | 63 |
U:\staff\word\boardpacket\2007\2007boardpackets\20070319\InfoReports\22\item22.doc