ITEM:

INFORMATIONAL ITEMS/STAFF REPORTS

16.

CARMEL RIVER FISHERY REPORT

Meeting Date:

May 15, 2006

Budgeted:

 

N/A

From:

David A. Berger,

Program/

N/A

General Manager

Line Item No.:

Prepared By:

Beverly Chaney /

Cost Estimate:

N/A

Dave Dettman

General Counsel Approval:

 

N/A

Committee Recommendation:

 

N/A

CEQA Compliance:  N/A

<![if !supportMisalignedColumns]>
<![endif]>
AQUATIC HABITAT AND FLOW CONDITIONS:  During April 2006, Carmel River streamflow conditions were excellent for juvenile steelhead rearing, as well as adult steelhead upstream migration, and adult and smolt downstream migration, with streamflow to the ocean.  In addition, all the major Carmel River tributaries were still flowing and had fair to good rearing habitat conditions.
During April 2006, the mean daily streamflow recorded at the District's Carmel River Sleepy Hollow Weir gaging station averaged 372 cubic feet per second (cfs), and ranged from 265 to 640 cfs.
There were 4.97 inches of measurable rainfall in April as recorded by Cal-Am at San Clemente Dam (SCD), far exceeding the long-term April average of 1.68 inches at this site.  The rainfall total for Water Year 2006 to date is 26.73 inches, 130% of the long-term October-March average of 20.56 inches.
As of April 26, 2006, runoff totaled 100,138 acre-feet (AF) at the USGS gaging station at Robles Del Rio and 89,220 AF at the MPWMD gaging station at Sleepy Hollow Weir.<![if !supportFootnotes]>[1]<![endif]>  Since February 28, 2006, the daily streamflow has exceeded daily 20% exceedance levels, thereby substantiating the classification of the 2006 Water Year as at least a "wet" hydrologic year.<![if !supportFootnotes]>[2]<![endif]>  As of April 30, rainfall at San Clemente Dam totals 4.97 inches, which makes April 2006 the wettest April since 1967 and the fourth wettest on record, since Cal-Am began keeping records at San Clemente Dam in 1922.  Even if May and June produce little rainfall, the Carmel River Basin is on track to provide substantial unimpaired runoff for the remainder of the dry season.
CARMEL RIVER LAGOON:  The Carmel River Lagoon was breached in late December 2005 and remained open until mid-January 2006 when lower river flow was unable to keep the sandbar open.  During February 2006, the mouth opened and closed a number of times and the water surface elevation (WSE) ranged from approximately 10 feet above sea level, to a critically low 2.0 feet above sea level.  The higher than average river flow during April 2006 kept the lagoon mouth open all month, as shown in the chart below.  Tidal fluctuation and storm waves caused the lagoon WSE to raise and fall.
<![if !vml]>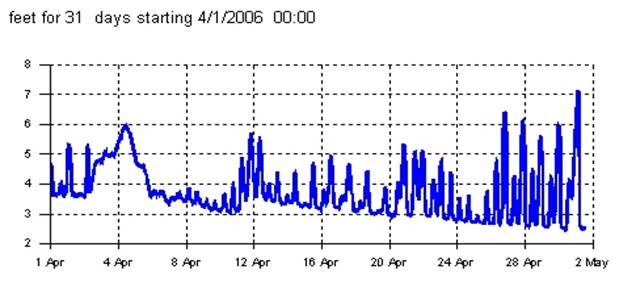 <![endif]>
WSE at the Carmel River Lagoon, April 2006
SLEEPY HOLLOW STEELHEAD REARING FACILITY (Facility):  The Facility is shut down for the season.  Staff will begin seasonal maintenance activities at the Facility in May.
STEELHEAD REDD SURVEYS:  Staff planned to begin a complete survey of steelhead redds (nests) in late March, between Via Mallorca Road (River Mile [RM] 3.9) and the Los Padres Dam (RM 24.8), but was unable to start due high river flows that precluded wading in the river.  Staff plans to carry out the survey in May.
JUVENILE STEELHEAD RESCUES:  No fish rescues will be needed prior to July 1, 2006; staff now anticipates that inflows will drop to ~ 10 cfs at the Highway One Bridge in late July 2006 and will be gearing up for the rescue season in early July in preparation for a late July or early August start of rescues.
ADULT STEELHEAD COUNTS AT SAN CLEMENTE DAM:  The District's automatic adult fish counter at the SCD Ladder was installed in early December 2005.  As of April 30, 2006, 344 counts had been recorded, including four river fish that migrated over the dam before the lagoon was breached on December 27, 2005.   See the daily and monthly breakdown in the chart below.
The end-of-February total of 124 was the lowest since District staff installed the automatic fish counter in 1994.  Fortunately, several large late February/early March storms brought the river flow back up from very low levels and allowed a large pulse of adults to migrate upstream and over the dam to their upper spawning grounds.  March's total count of 175 adults was very favorable, but was not enough to reverse the downward trend in total annual number of adult fish passing over SCD since the 2001 season, when 804 fish were counted.  April and May typically have fairly low adult counts at SCD, but persistent high river flows through April 2006 kept the fish run going strong.  The 2006 year-to-date total of 344 fish has now surpassed last year's total of 328 fish, but is still far below the 2001 high.
<![if !vml]><![endif]>

TOTAL THRU
04/30/2006

344

MONTH

NUMBER OF ADULTS

DEC 2005

7

JAN 2006

51

FEB 2006

66

MAR 2006

175

APR 2006

45

MAY 2006
U:\staff\word\boardpacket\2006\2006boardpackets\20060515\InfoItems\16\item16.doc