ITEM:

INFORMATIONAL ITEMS/STAFF REPORTS

24.

CARMEL RIVER FISHERY REPORT

Meeting Date:

June 20, 2005

Budgeted:

 

N/A

From:

David A. Berger,

Program/

N/A

General Manager

Line Item No.:

Prepared By:

Beverly Chaney /

Dave Dettman

Cost Estimate:

N/A

General Counsel Approval:

 

N/A

Committee Recommendation:

 

N/A

CEQA Compliance:  N/A

<![if !supportMisalignedColumns]>
<![endif]>
AQUATIC HABITAT AND FLOW CONDITIONS:  During May 2005, Carmel River streamflow conditions were excellent for juvenile steelhead rearing, and good for downstream smolt and kelt migration.
During May 2005, the mean daily streamflow recorded at the District's Carmel River Sleepy Hollow Weir gaging station averaged 97 cubic feet per second (cfs) and ranged from 65 to 132 cfs. 
May rainfall of 0.75 inches, as recorded by Cal-Am at San Clemente Dam (SCD), was above the long-term May average of 0.44 inches at this site.  For Water Year (WY) 2005, rainfall totaled 29.69 inches through May, or 41% above the long-term accumulated monthly average of 20.99 inches.
CARMEL RIVER LAGOON:  In early March 2005, the outflow from the lagoon started to migrate farther to the north and towards the tall sand bluff along Scenic Road.   High river flows, and unusually large late winter waves and high tides continued to erode the bluff, threatening a large cypress tree, roadway, and the western corner of the beach parking lot.  The entire Stewart's Cove beach was washed away.  On March 10, Monterey County Public Works cut a new lagoon channel farther to the south to redirect the outflow away from the bluff.  Using bulldozers, Public Works pushed sand back underneath the roadway and the exposed tree roots.  During April 2005, the river again migrated to the north, cutting away the restored bluff and beach. 
On May 2, 2005, Public Works crews again cut a new river channel to the south and pushed sand back underneath Scenic Road.  The mouth closed at least once in May, and the water surface elevation (WSE) rose to nine feet above sea level (see graph below) prompting Public Works to re-open the mouth on May 24, 2005.
<![if !vml]>

<![endif]>
Carmel River Lagoon Water Surface Elevation (feet NGVD) – May 2005
ADULT STEELHEAD COUNTS AT SAN CLEMENTE DAM:  The District's automatic adult fish counter at the San Clemente Dam (SCD) ladder has been in operation since December 28, 2004, when SCD began spilling.  Only one fish passed over the counter in May (see graph below). The total count for the 2004-2005 adult fish migration was 328, far below the average run of 500 fish for the 1993-2004 period.  This year's adult steelhead run was the smallest since 1995, when the run was still recovering from a six-year drought, and continues a four-year pattern of decreasing numbers of returning adults (see second graph below).  Staff has been researching annual fish counts and population survey data to further assess possible causes for this trend. 
At Los Padres Dam, 107 adult steelhead were counted and transported above the dam by Cal-Am personnel.
Adult Steelhead Count-- 2004-2005 season
San Clemente Reservoir Fish Ladder, Monterey County, CA
TOTAL THRU
05/31/2005
328
| | |
| --- | --- |
| MONTH | NUMBER OF ADULTS |
| JAN 2005 | 91 |
| FEB 2005 | 129 |
| MAR 2005 | 90 |
| APR 2005 | 17 |
| MAY 2005 | 1 |
<![if !vml]>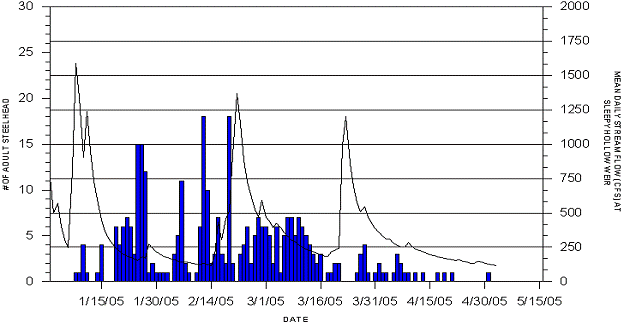 <![endif]>

<![if !supportLineBreakNewLine]>
<![endif]>
<![if !vml]>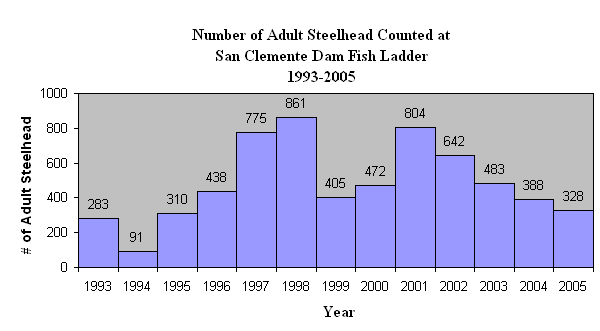 <![endif]>
SLEEPY HOLLOW STEELHEAD REARING FACILITY:  Staff is currently working on several modifications to the rearing channel, has repaired a section of bird netting canopy, and is preparing to hold rescued fish this summer.
U:\staff\word\boardpacket\2005\2005boardpackets\20050620\InfoItems\24\item24.doc