ITEM:

INFORMATIONAL ITEMS/STAFF REPORTS

20.

CARMEL RIVER FISHERY REPORT

Meeting Date:

March 21, 2005

Budgeted:

 

N/A

From:

David A. Berger,

Program/

N/A

General Manager

Line Item No.:

Prepared By:

Beverly Chaney /

Dave Dettman

Cost Estimate:

N/A

General Counsel Approval:

 

N/A

Committee Recommendation:

 

N/A

CEQA Compliance:  N/A

<![if !supportMisalignedColumns]>
<![endif]>
AQUATIC HABITAT AND FLOW CONDITIONS:  During February 2005, Carmel River streamflow conditions were excellent for juvenile steelhead rearing and adult steelhead upstream migration.
During February 2005, the mean daily streamflow recorded at the District's Carmel River Sleepy Hollow Weir gaging station averaged 398 cubic feet per second (cfs) and ranged from 117 to 1,370 cfs. 
February rainfall was slightly above average with 4.91 inches of rainfall recorded by Cal-Am at San Clemente Dam (SCD), about 110% of the long-term February average of 4.39 inches at this site.  For Water Year (WY) 2004-2005, rainfall totaled 22.24 inches through February or 70% above the accumulated monthly average of 15.56 inches. October's rainfall total was the highest in over 82 years and December's was the highest since 1997.
CARMEL RIVER LAGOON:  The Carmel River Lagoon mouth was open throughout February with the water surface elevation (WSE) ranging between 3.5 feet and 8.0 feet above sea level depending on wave and tidal influence, as shown below. 
<![if !vml]>

<![endif]>Carmel River Lagoon Water Surface Elevation (feet NGVD) – February 2005
ADULT STEELHEAD COUNTS AT SAN CLEMENTE DAM:  The District's automatic adult fish counter at the San Clemente Dam Ladder has been in operation since December 28, 2004, when San Clemente Dam began spilling.  As of February 28, 2005, 220 counts had been recorded, which is close to the average run-to-date of 209 fish for the 1993-2004 period.  At this rate, approximately 520 adults are expected to pass over the dam this season.  A digital surveillance camera is being tested to check the operation of the counter, and assess the condition, size, and sex of the fish (see sample photo below).
Adult Steelhead Count-- 2004-2005 season
San Clemente Reservoir Fish Ladder, Monterey County, CA
<![if !supportLineBreakNewLine]>
<![endif]>
<![if !vml]>
<![endif]><![if !mso]>

<![endif]>

TOTAL THRU
02/28/2005
220
| | |
| --- | --- |
| MONTH | NUMBER OF ADULTS |
| Dec 2004 | 0 |
| Jan 2005 | 91 |
| Feb 2005 | 129 |
| Mar 2005 | |
| April 2005 | |
<![if !mso]>

<![endif]><![if !mso & !vml]> <![endif]><![if !vml]>

<![endif]><![if !vml]>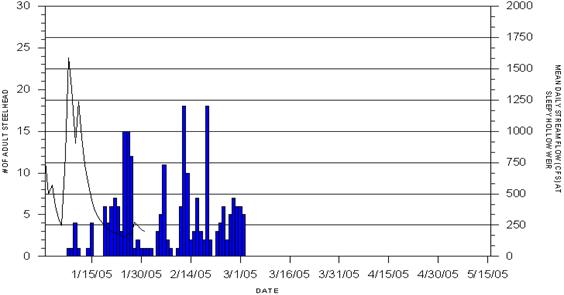 <![endif]>

<![if !vml]>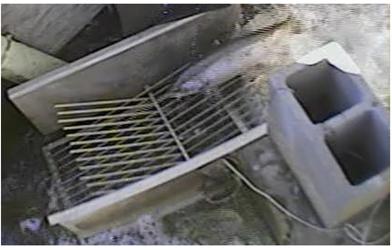 <![endif]>
Adult Steelhead at San Clemente Dam Counter, January 20, 2005 10:19 hours
U:\staff\word\boardpacket\2005\2005boardpackets\20050321\InfoItems\20\item20.doc