ITEM:

†††††††††††

INFORMATIONAL ITEMS/STAFF REPORTS
<![if !supportEmptyParas]> <![endif]>
25.†††††† CARMEL RIVER FISHERY REPORT†††††
<![if !supportEmptyParas]> <![endif]>
Meeting Date:†††††††††† January 29, 2004††††††††††††††††††† Budgeted:† N/A
††††††††††††††††††††††††††††††††††††††††††††††† Program/Line Item No.: Aquatic
Staff Contact:
†††††††††††

Dave Dettman/

††††††††††

††††††††††

Resources Fisheries, 2.4
†††††††††††††††††††††††††

††††††††††

Beverly Chaney

††††††††††††††††††††

Cost Estimate:

†

N/A

<![if !supportEmptyParas]> <![endif]>
General Counsel Approval:
†

N/A

Committee Recommendation: N/A

CEQA Compliance:† N/A

<![if !supportEmptyParas]> <![endif]>

<![if !vml]>

<![endif]>
AQUATIC HABITAT AND FLOW CONDITIONS:† During most of December 2003, Carmel River streamflow conditions were critical for rearing juvenile steelhead in the lower river and good for rearing fish upstream of Schulte Road Bridge.† Two large storms late in the month moved the riverfront downstream from the Cypress Well area to the lagoon.† In December, mean daily streamflow recorded at the Districtís Carmel River Sleepy Hollow Weir gaging station averaged 39.9 cubic feet per second (cfs) and ranged from 8.1 to 648 cfs.
<![if !supportEmptyParas]> <![endif]>
In December 2003, 6.88 inches of rainfall were recorded by Cal-Am at San Clemente Dam (SCD).† The long-term December average at this site is 3.88 inches.† For Water Year 2004 through the end of December, the total rainfall is 8.02 inches, or 120% of average.
<![if !supportEmptyParas]> <![endif]>
The Carmel River Lagoon was breached by the Monterey County Public Works Department on December 30, 2003 after storm flows raised the Water Surface Elevation (WSE) to nine feet above sea level.† The water level continued to rise for several hours before the lagoon emptied on December 31.
†††††††††††
<![if !vml]>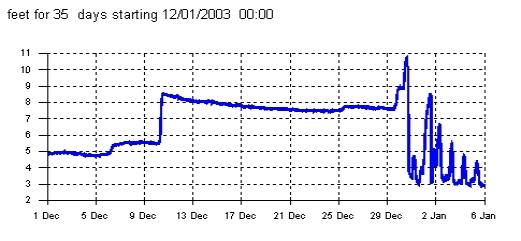 <![endif]>
<![if !supportEmptyParas]> <![endif]>
Carmel Lagoon Water Level December 2003
SLEEPY HOLLOW STEELHEAD REARING FACILITY:† The Facility was shut down for the winter in late December after the last of the young-of-year fish in the rearing channel and the larger juveniles from Tank 3 were released.† By September 5, 2003, staff had stocked 28,327 fish at the Facility, or approximately one-half of the total number rescued from the lower river.† As of December 31, 2003, an estimated total of 12,500 fish were released from the Facility back into the river.† All were in excellent physical condition, and many had grown quite large. The overall survival rate of fish held at the Facility in 2003 is estimated at 44%.†† This is a very favorable result when compared to the survival of wild fish in the lower Carmel River and shows that the combination of the cooling tower, quarantine protocol, feeding regime, and nature-like habitat in the rearing channel is successful in rearing wild-caught juvenile steelhead.† Final results will be provided for the February 2004 fishery report.
<![if !supportEmptyParas]> <![endif]>
U:\staff\word\boardpacket\2004\2004boardpacket\20040129\InfoItems_Reports\25\item25.doc