ITEM:

           

INFORMATIONAL ITEMS/STAFF REPORTS
28.       CARMEL RIVER FISHERY REPORT     
Meeting Date:           June 16, 2003                         Budgeted:  N/A
                                                Program/Line Item No.: Aquatic Staff
Staff Contact:
           

Dave Dettman/

          

          

Resources Fisheries, 2.4
                         

          

Beverly Chaney

                    

Cost Estimate:

 

N/A
General Counsel Approval:
 

N/A

Committee Recommendation: N/A

CEQA Compliance:  N/A

AQUATIC HABITAT AND FLOW CONDITIONS:  During May 2003, Carmel River streamflow conditions were good for fish rearing and fair to good for adult fish migration.  Mean daily streamflow recorded at the District's Carmel River at Sleepy Hollow Weir gaging station averaged 101 cubic feet-per-second (cfs) and ranged from 58 - 161 cfs.  

The first week of May was unusually wet with a rainfall of 1.20 inches, as recorded by Cal-Am at San Clemente Dam.  The long-term monthly average is 0.30 inches at this site for May. 

SAN CLEMENTE DAM FISH COUNTER: The fish counter was placed into service on November 1, 2002.  Through the end of May 2003, 483 adult steelhead have passed over the counter, including 8 fish in November, 17 in December, 90 in January, 141 in February, 194 in March, 30 in April, and 3 in May 2003.

<![if !vml]>

<![endif]><![if !mso]>

<![endif]>
Total Through
5/31/2003
Month       # of Adults
Nov 2002         8
Dec 2002        17
Jan 2003        90
Feb 2003      141
Mar 2003     194
Apr 2003       30
May 2003        3                   
TOTAL         483

<![if !mso]>

<![endif]><![if !mso & !vml]> <![endif]><![if !vml]>

<![endif]> <![if !vml]>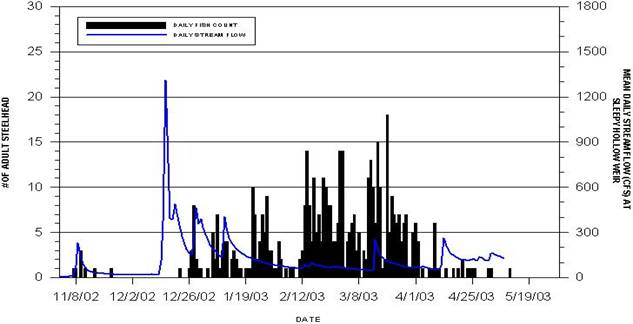 <![endif]>

Adult Steelhead Count-- 2002-2003 season

**Discharge measured at the MPWMD gaging station at Sleepy Hollow Weir or San Clemente Spillway

SLEEPY HOLLOW STEELHEAD REARING FACILITY:  In May 2003, work on the Interim Sediment Retrofit Project continued with the installation of the centrifugal separator and associated plumbing, the electrical conduits and water lines to the new backup pump, and the placement of a gravel pad for the backup pump's trailer.  District staff expects the Facility to be in test mode by mid-June 2003.

STEELHEAD REDD SURVEYS:  During May 2003, fisheries staff completed the 2003 steelhead redd (nests) survey. Nearly 50 miles of river were surveyed during two complete passes from Via Mallorca Road (River Mile [RM] 3.2) to Los Padres Dam (RM 24.6), along with the lower portions of four tributaries, between late January and late May 2003. The season's summary is shown in the following table and include 251 redds and 92 adult fish observed.
2003 Redd Survey Season Summary - Main Stem Carmel River and Four Tributaries

Reach

# Redds

Total # Adults

Spawning Pairs

Single Adults

Kelts

Carcasses

Garzas Cr., Confl. – 2nd  Br.

0

0

0

0

0

0

5

0

0

0

0

2

Pine Cr. Confl. – 2/3 mile u/s

2

0

0

0

0

0

Cachagua Cr. Confl. – Nason Rd. Br.

0

0

0

0

0

0

Highway 1 Br. – Stonepine Br.

131

40

3

16

4

14

Stonepine Br.  – SHSRF

15

4

0

1

0

3

SHSRF – SC Dam

3

0

0

0

0

1

SCR – Pine Creek Conf.

14

25

4

8

3

6

Pine Cr. Conf. – Cachagua Cr. Conf.

70

17

4

6

1

2

Cachagua Cr. Conf. – LP Dam

11

6

1

4

0

0

2003 Season Totals

251

92

12

35

8

28
U:\staff\word\boardpacket\2003\2003boardpacket\20030616\InfoItems_Reports\28\item28.doc